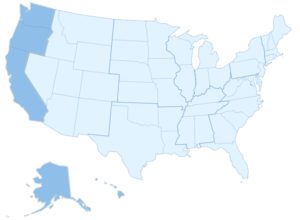 The region at the west coast of the United States, is called the Pacific. This is called Pacific because all the states in this region borders to the North Pacific Ocean. The whole coastline is called the West Coast. Why? Because the west coast of the united states lies at the west of the usa, as simple as that. When your question is "Which states are in the West Coast?", we'll help you further with this question beneath. And when you have to learn these states by heart, you're absolute in the right place.
West Coast USA / Pacific facts on a row
On which part of the USA: West Coast
How many states in this region: 5
States of the Pacific / West Coast of the USA
The Pacific consists of the following 5 states, also called the Pacific States:
Washington, next to the capital of the USA, there's also a state Washington
Oregon, the state between Washington and California with the deepest Lake in the USA, called Crater Lake
California, the Golden State with the cities Los Angeles and San Francisco. Next to Texas and Alaska it's the biggest state of the 50 states in the USA
Alaska, the biggest state of all in the United States of America
Hawaii, The Aloha State which consists of islands where people love to surf
Pacific Map and Learning Tools
When you have to learn the short codes and capitals of the 5 US states within this region, use this great learning tool below. It has a map with the 5 states and you can learn it easily with the shortcodes in the image. You can find the full state names in the list under the map, including the capitals. Just download it to print it or just learn it online. What you think is the best for you. This learning list will help you to get a great score.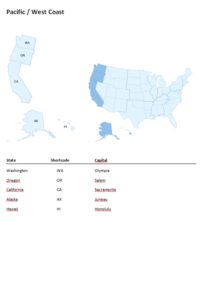 For each region you can go to the section with the description and some great coloring pages of that state.
World learning tools