Maze games online are nice to play, but printable maze games are even better 🙂 . Maze games for kids are great and are very funny to play. Kids need to find the right way to a final destination through a maze, that's why it is called a maze game. It will also help training the brains trying a maze game, a little brain training won't do no damage.
Click on the images below to get a larger version of these maze games you can download and print. Have lot's of fun with these free printable maze games from Dora and Boots and some from the Disney movie Cars. Don't get lost in these funny mazes 🙂
Maze games
Ligthning McQueen wants to go to his girlfriend Sally because he really likes her. Can you help him getting there?
---
Lightning McQueen and Sally agreed to meet each other in the middle of this maze. Can you help them both getting in the middle?
---
Dora and Boots like to visit their friend Tico the squirrel. Can you help them find the way through the forest? Draw the right way with your pencil.
---
Dora and Boots are looking for a star. There are different paths with triangles, circles and squares. Do you see which path they need to follow to find the star?
---
This is just a simple maze game without characters. Just find the right way through the maze.
---
Tinkerbell must get to the tree house, but there's a maze in front of it. Can you help Tink through this maze and solve this maze game?
---
Dora the Explorer needs Map to find the way. But first she needs to find the way to Map. Can you help her find him? Draw the correct way with your pencil.
---
Maps shows the route to go to the trees. First through the bushes, then over the bridge and then to the trees. Can you draw the route with your pencil?
---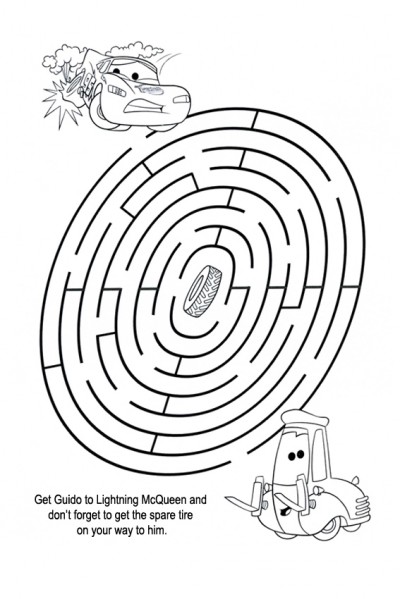 McQueen has a flat tire and needs a new one to finish the race. Can you get Guido to Lightning McQueen? Don't forget to get the spare tire on your way to him.
---
Also a maze can not separate best friends McQueen and Tow Mater. Follow the arrows and get Tow Mater to his very best friend.