Barbie coloring pages are great for girls to color in. As Barbie was designed in the 50s, there are different kind of coloring sheets of her, like old coloring pages, but also the newest Barbie coloring pages for girls.
We've tried to offer a range of Barbie coloring sheets from today, bus also from the past. Of course Ken, the male doll, can not be missed in these coloring pages 🙂
Find your favorite coloring page(s) and do some good coloring. Maybe you can make this coloring page for your grandma or some other related elderly ladies. They must remember this great doll from the past 🙂 Perhaps they still have some great Barbie dolls to play with. Play careful with these old dolls as these can be great collector items and can be worth a lot of money.
Barbie coloring pages
Here we have four coloring pages of Barbies. The first one is with four dolls who are dressed up as princesses. Maybe they would like to be Disney princesses in stead of Barbies? there's also one from Barbie taking a bath because dolls must be freshed up too. Barbie also loves cats, so coloring pages with cats can not be missed between it.
Barbie has a boyfriend whose name is Ken, most of the girls will know that. Here we have some coloring pages of Barbie and Ken together. For example we have one of them where they are on the beach together. Or one where you can see them as a happy couple and dressed up as prince and princess.

Here we have another coloring page of Ken and Barbie together, they are riding a scooter together. In the second one you can see they are totally in love together. Barbie also has a car, so when it rains she don't have to ride the scooter. In the last coloring page Barbie is reading a letter. Probably this is a loveletter from Ken, don't you think?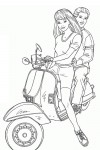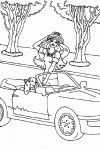 Barbie also loves riding her horse as you can see below. Sometimes she even gets dressed up as a cowboy, as they also rides horses.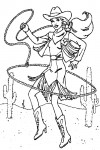 Above we've told Barbie loves cats. But not only cats are being loved, as Barbie is a true animal lover. Below you'll find some dog coloring pages with Barbie, so she also must love dogs.

Barbie is just a cute doll as you can see in the coloring sheets below.